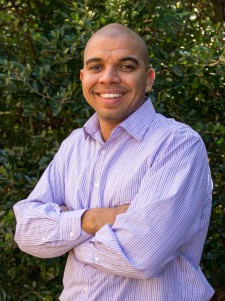 IRVINE, Calif., October 3, 2017 (Newswire.com) - EdTechTeam, the global leader in Google for Education training and innovative professional development, today announced a recent addition to the company's Programs team to meet the needs of a growing division supporting large impact projects with partners. Dee Lanier, a long-time featured speaker and keynote for the EdTechTeam Summits program, has been hired as a Program Coordinator to support the team's innovative programs, such as the Dynamic Learning Project with Google for Education and Digital Promise. 
"We're excited to have Dee Lanier on the team, he excels at inspiring educators, his voice and ideas are well respected, and he has proven he can empower others to make lasting change in their schools," says Mark Wagner, EdTechTeam Founder and CEO. "His experience developing programs for educators will help support EdTechTeam's capacity as we expand our efforts to support large impact projects across the globe."
Originally from Southern California, "Sociologist turned Technologist," Dee Lanier is a passionate and energetic educator and learner with over a decade of instructional experience at both the K-12 and collegiate level. Dee holds undergraduate and master's degrees in Sociology with special interests in education, race relations, and inequality. Most recently, Dee served on the board of Charlotte Lab School then worked as the school's STEM Specialist and Tech Coach. "Over the years I would work dozens of times with EdTechTeam on inspiring professional development for educators across the globe. Now I get to work with the team more directly and continue to share my passion for digital equity, student agency, and creativity in the classroom. I truly feel blessed beyond measure," said Lanier.
About EdTechTeam
EdTechTeam, a California Benefit Corporation, is a global network of educational technologists with a mission is to improve the world's education systems using the best learning principles and technology available. With 37 employees and more than 200 contractors, most of which are practicing or former educators, EdTechTeam operates in 32 states and 23 countries on six continents with local subsidiaries in Canada, Australia, Mexico, and the UK), producing professional development experiences in 9 languages for over 50 thousand educators face-to-face per year. 
The core team of world-class instructional leaders works closely with schools and districts around the globe to effectively and appropriately implement positive school change. EdTechTeam aims to inspire and empower educators to design the best possible personalized learning experience for students. 
EdTechTeam is an official Google for Education Professional Development Partner. Having been involved in producing the Google Teacher Academy from its inception in 2006 through the most recent iteration of the Innovation Academy in 2016, the team is best known for their series of Summits featuring Google for Education, with over 350 conference-style events produced to date since July 2012. Through a Custom Learning program, more than 500 smaller (mostly workshop style) events will be delivered in 2017 as well.
As a founding member of the Future Ready Schools Coalition, EdTechTeam also helps schools develop capacity in six areas key to successful school change: courageous leadership, empowered teachers, student agency, inspiring spaces, robust infrastructure, and engaged community.
Source: EdTechTeam, Inc.
Share: