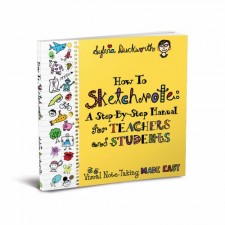 Sketchnoting helps students capture ideas in a fun, artistic way while making connections in learning, and displaying their thinking process.
IRVINE, Calif., November 13, 2018 (Newswire.com) - Sketchnoting is visual note-taking. It's not necessarily about making art, and it doesn't take innate artistic ability; Sketchnoting is about capturing ideas in a fun and artistic way and making them memorable. Sketchnotes create visual shorthand, which is more effective than words when it comes to memory retention. And its applications in the classroom are endless for both students and teachers.
In her new book, "How to Sketchnote: A Step-by-step Manual for Teachers and Students," author, educator, and sketchnote advocate Sylvia Duckworth provides everything teachers need to get started doodling and sketchnoting in the classroom.
Duckworth provides insights on why and how to support students with visual vocabularies as well as fun activities and drawing challenges. She also includes 180+ icons that can be used or adapted to represent ideas as well as free access to an online "Sketchnoting Icon Database."
Sketchnoting in the classroom, Duckworth says, "allows students to see the bigger picture in concepts, make connections in learning, and display their thinking process, all while calming their minds much like meditation or soothing music." "How to Sketchote" inspires you to embrace the doodler within—even if you think you can't draw.
About the Author
Sylvia Duckworth is an award-winning teacher, Google Certified Innovator, and Apple Distinguished Educator who lives in Toronto, Canada with her husband, Steve, and daughters, Alana and Lauren. When she is not cycling the Toronto bicycle paths, she enjoys traveling the world to teach people how easy it is to sketchnote. She blogs and shares her resources at sylviaduckworth.com and has an online store at sylviaduckworth.shop.
For an interview with Sylvia, please contact her at sduckworth100@gmail.com
Embrace the Doodler Within with "How to Sketchnote" by Sylvia Duckworth
$24.97 paperback ISBN: 978-1-945167-53-9
$9.99 eBook ISBN: 978-1-945167-54-6
About EdTechTeam:
EdTechTeam, a California Benefit Corporation, is a global network of educational technologists with a mission is to improve the world's education systems using the best learning principles and technology available to inspire and empower educators to design personalized learning experiences for students. As an official Google for Education Professional Development Partner, EdTechTeam has delivered over 350 conference-style events and more than 500 smaller events to help educators realize the potential of Google for Education and technology.
Source: EdTechTeam