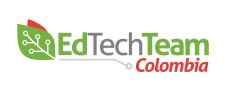 This addition allows EdTechTeam to support Colombian educators with professional development solutions that include Google for Education and custom training.
IRVINE, Calif., August 2, 2018 (Newswire.com) - EdTechTeam, a Google for Education Partner, is growing and excited to announce the debut of EdTechTeam Colombia. This addition allows our team of educational technologists to bring Colombian educators professional development solutions including Google Suite for Education Summits, Google Certification Bootcamps and custom training.
To support our expansion efforts, we're proud to welcome Federico Centeno, Regional Director, to our team.
"I'm very happy and excited to join this team of passionate educators, and I'm looking forward to continuing to help Colombian and Latin American teachers integrate technology into their practice in order to help students reach their goals," expressed Federico.
Federico is a Google Certified Trainer and Innovator with 10 years of education experience as an (ICT) teacher and a rugby coach. Throughout this time he has had the opportunity to work as a change management consultant and EdTech Trainer for some of the top schools in Colombia.
"I had the pleasure of meeting Federico at the Google Innovator Academy in Mexico in 2016," said Monica Martinez, Executive Director of Global Development for EdTechTeam. "I instantly recognized a passion and drive in him that I knew would impact his community back home. We're lucky to have him on our team."
Since 2016, Federico has launched the Google Educator Group (GEG) Colombia, the GEG Colombia Chat, and has hosted numerous Google Certification events with the purpose of helping more educators in Colombia with their own personal education goals.
EdTechTeam Colombia will continue to support these programs as well as offer an extensive listing of learning opportunities. Visit edtechteam.com/Colombia for more information on the programs available in Colombia.
                                                                                   ###
About EdTechTeam:
EdTechTeam, a California Benefit Corporation, is a global network of educational technologists with a mission is to improve the world's education systems using the best learning principles and technology available to inspire and empower educators to design personalized learning experiences for students. As an official Google for Education Professional Development Partner, EdTechTeam has delivered over 350 conference-style events and more than 500 smaller events to help educators realize the potential of Google for Education and technology.
Source: EdTechTeam
Share: