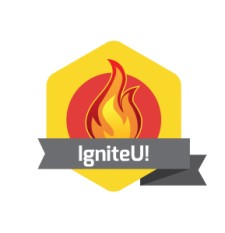 IRVINE, USA, January 30, 2018 (Newswire.com) - EdTechTeam, the global leader in Google for Education training and innovative professional development, has announced a new product offering. EdTechTeam has designed a series of one-day events dedicated to the mind, body, and spirit of educators with content-specific professional development. Through a fully hands-on experience, expert teachers model instructional methods throughout the day with additional workshop time set aside for lesson plan development. Through this outcome-based professional development, participants leave an IgniteU! session reinvigorated with new foundational practices and lessons that ignite student creativity throughout the academic year.
"We've analyzed the feedback EdTechTeam has received from classroom teachers and have designed a curriculum we believe meets teacher needs," says Lisa Thumann, Senior Director of Teaching & Learning at EdTechTeam. "From brain breaks to movement exercises to content specific to their area of study, IgniteU! promises to help them effectively integrate technology in their classrooms."
From brain breaks to movement exercises to content specific to their area of study, IgniteU! promises to help them effectively integrate technology in their classrooms.
Streams of study for teachers include literacy, mathematics, science, physical education/health, Special Education, ESL/ELD and more. Districts and schools have two options to select from. First, schools can choose one or more sessions from IgniteU! and schedule professional development days strategically throughout the year. Leaders may select to target groups of teachers by content area throughout the year and provide each group with engaging strategies that will be put into practice immediately. Alternately, a district may choose to address the needs of all teaching staff with EdTechTeam's entire IgniteU! series in one day. EdTechTeam will produce the entire event in coordination with district staff.
Future versions will incorporate additional languages and comment feedback formats. Discover  more about the IgniteU! program by EdTechTeam at http://www.edtechteam.com/igniteu.
About EdTechTeam
EdTechTeam, a California Benefit Corporation, is a global network of educational technologists with a mission to inspire and empower educators to create powerful learning experiences for students is to improve the world's education systems using the best learning principles and technology available. With 36 employees and more than 250 contractors, most of which are practicing or former educators, EdTechTeam operates in 32 states and 23 countries on 6 continents with local subsidiaries in Canada, Australia, Mexico, and the UK), producing professional development experiences in 9 languages for over 50 thousand educators face-to-face per year.
The core team of world-class instructional leaders works closely with schools and districts around the globe to effectively and appropriately implement positive school change. EdTechTeam aims to inspire and empower educators to design the best possible personalized learning experience for students.
EdTechTeam is an official Google for Education Professional Development Partner and Apple Professional Learning Provider. Having been involved in producing the Google Teacher Academy from its inception in 2006 through the most recent iteration of the Innovation Academy, the team is best known for their series of Summits featuring Google for Education, with over 350 conference-style events produced to date since July 2012. Through a Custom Learning program, more than 500 smaller (mostly workshop style) events will be delivered in 2018 as well.
Source: EdTechTeam, Inc.
Share: