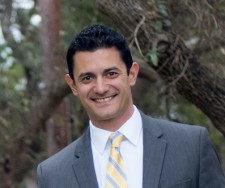 Custom Learning Team Expanded to Support Rapid Growth in Professional Learning Events for Schools and Districts
Irvine, Caifornia, May 31, 2016 (Newswire.com) - ​​EdTechTeam, the global leader in Google for Education training and innovative professional development, today announced a recent addition to the company's Custom Learning team to meet the needs of their growing division supporting personalized large scale learning events for schools and districts. Sergio Villegas was appointed to Director of Professional Learning.
"We're thrilled to welcome Sergio aboard during this exciting period of growth for the company," says Mark Wagner, EdTechTeam Founder and CEO. "His experience developing and delivering highly rated teaching and learning events will help support EdTechTeam's capacity as we rapidly expand our efforts to support innovative teaching and learning."​
Villegas will focus on designing and delivering EdTechTeam's Custom Summits for schools and districts. These dynamic conference-style events for educators bring the energy, fun and talent of EdTechTeam's Global Summits, but are customized and more closely aligned to district learning initiatives. "Sergio will be an essential part of our efforts in scaling this solution and making it more accessible and affordable for more schools," says Wagner. ​
Villegas joins EdTechTeam with more than 8 years of teaching and learning experience. Though trained as a high school science teacher, instructional coach, and AVID/ELL specialist, most recently he was the instructional technology administrator for the Napa County Office of Education, working to support the educational technology components of regional project-based learning and Bring Your Own Device (BYOD) initiatives. "I'm excited to join EdTechTeam and have the chance to work with schools and school districts across the country to help them develop, design, and execute professional learning for their teams", said Villegas.
About EdTechTeam
​EdTechTeam, a California Benefit Corporation, is a global network of educational technologists with a mission is to improve the world's education systems using the best learning principles and technology available. With 30 employees and more than 150 contractors, most of which are practicing or former educators, EdTechTeam operates in 32 states and 23 countries on 6 continents with local subsidiaries in Canada and Australia), producing professional development experiences in 9 languages for over 50 thousand educators face-to-face per year.
The core team of world-class instructional leaders works closely with schools and districts around the globe to effectively and appropriately implement positive school change. EdTechTeam aims to inspire and empower educators so that they design the best possible personalized learning experience for students. ​
EdTechTeam is an official Google for Education Professional Development Partner. Having been involved in producing the Google Teacher Academy from its inception in 2006 through the most recent iteration of the Innovation Academy in 2016, the team is best known for their series of Summits featuring Google for Education, with over 250 conference-style events produced to date since July 2012, and well over 100 events scheduled around the globe in 2016 alone. Through a Custom Learning program, twice as many smaller (mostly workshop style) events will be delivered in 2016 as well.
As a founding member of the Future Ready Schools Coalition, EdTechTeam also helps schools develop capacity in six areas key to successful school change: courageous leadership, empowered teachers, student agency, inspiring spaces, robust infrastructure, and engaged community.
Source: EdTechTeam, Inc.
Share: